In 2021, in Poland every third person from a group of over 28 million Internet users was a customer of an online store, and ⅓ of them regularly shops in foreign stores. According to the Gemius report, buyers expect comfortable and uncomplicated shopping, and this is visible not only in Poland, but also worldwide.
The equally important part of e-commerce is availability of the 24/7 customer service, and we could see that in 2021. This year belonged to chatbots, which in successive years will be increasingly easier and cheaper to implement. A thing we can do for our customers in 2022, is to make available to them also voicebots, facilitating consultants' work at crucial moments. Currently chatbots relieve consultants, so the agents' productivity increased by 62% and this positively influences their work. 2022 will definitely belong to the development of artificial intelligence in the voice recognition area: sound of words, understanding, and at later stages, the emotional tones.
This article presents areas worth focusing on when you manage an online store. In 2022, in e-commerce we will focus on deeper personalisation of customer experience, voice search and increasing the importance of video in consultations or shopping. See what your customers will pay attention to, and areas on which e-commerce owners should focus.
Voice assistants and voice search
There is no denying that devices operated with our voice can be found in our environment. There is several renowned voice assistants available in the market: Google Assistant, Siri in Apple devices, Alexa from Amazon.
Google Assistant,
Siri in Apple devices,
Alexa from Amazon.
There are also less popular voice assistants, including Bixby from Samsung, or assistants from Tesla and Mercedes. Voicebots help to find favourite pizzerias, remind about meetings, and set routes and change the air conditioning temperature in a car. They make our lives much smoother and become a part of us, that is, our customers, who use this technology on a daily basis. It is estimated that in 2022 the voice assistants market will be worth over 4 billion dollars, and purchasing with voice commands will be worth 40 billion dolars, with an estimated 55% increase in the use of this form of shopping.
The technology responsible for voice search and voice recognition is a dynamically developing area of artificial intelligence. When planning the SEO strategy for 2022, options for optimisation of contents and terms for voice search are worth considering.
The main reasons underlying the increasing popularity of the voice searching sector include:
touchless form of interaction, that does not expose us to contact with buttons and devices, what was particularly important during the pandemic – in 2020 alone the use of voice assistants increased by 7%;

talking is natural to us, and a barrier concerning talking to devices has been overcame by us, and currently we communicate not only with people but also with robots;

search speed – you just need one command like "Hey Siri" or "OK Google", and the voice assistant will find for us whatever we need. This is much simpler that opening a browser and entering a search term, together with later browsing of the results.
We know why customers will use voice search increasingly often. So what can we expect, and what influences the development of this trend? Among others:
Customers search locally and on a daily basis: Is there a restaurant in a vicinity? Can I go to a café on my way to work? What are opening hours of the pharmacy on the corner? This has been clearly reflected in recently increasing number of searches with the term "nearby". If you are managing a local business, it is a perfect time to update SEO to voice search.
Smart microphones become increasingly popular and additionally they are incorporated into devices that we use. There are a key to the increasing popularity of voice search. We have them in our phones and laptops, cars and smart household appliances. In 2020, 25% of users used voice search several times a day!
Artificial intelligence and Machine learning develop at an increasingly faster rate and increasingly better understand the language, the voice, distinguish words, or customer's emotional involvement noticeable in their voice. A good example here is the RankBrain algorithm from Google, responsible for sorting results, and term and word recognition. A person asking a question is a crucial element of each search. The algorithm recognises intentions underlying a given term, so Google offers increasingly better experiences associated with information search. This also contributes to the increased customers' interest in voice search.
Human attitude towards voice technologies is changing creating new options for multitasking, even in a way that we would not consider before. According to the PwC report,

32% of people aged between 18 and 64 years uses voice search on a daily basis. Asking to play music for cooking or determining a route to a specific destination using a voice is one of many activities performed every day. A half of the above-mentioned group uses this search when driving, and the most common search term were local services. So what has changed together with the search?

Our life is smoother.

A device reading our voice usually stands in the centre of a house.

It is a part of our daily life.

We have established a new relationship with the technology.

It is a new space for sellers and their brands.
Concluding, the voice search trend suits our nature. We are created to talk and it is the easiest way for us to establish relationships. Customers will increasingly often search local services, so it is important to ensure visibility of your business also in this area. We are getting used to microphones, and to the technology that effectively searches for information for us. Do not miss the moment when customers start to look for your shop using voice commands.
Voice shopping
Continuing the subject of voicebots and voice assistants, we must mention options for shopping using assistants. In 2021, Amazon Echo with the Alexa assistant is a device that can propose products and their purchase. It proposes products on a basis of previous shopping (if applicable), and at the next stage suggests new items. Alexa also monitors the order status and reminds about next shopping in good time. Currently, the entire process occurs within the Amazon system, but with the growth in this trend we should expect popularisation of this solution.
If we want to introduce an option for voice shopping in the store application, what should we take into account? In particular:
A customer must see a green microphone communicating that the application actively reads commands.
Unique wake word, to distinguish your store from other applications.
Correct speech recognition and informing user that data is processed, with a pulsating transcription bar or an icon.
Feedback. Each time, the assistant should inform the user if and what it has recognised.
It is also important to educate your customers – on starting of the application, through mailing campaigns, or when servicing customers. At each moment of their contact with the brand the customers should be informed how they can use the voice assistant.
In 2021, the customers mostly shop for food, due to lesser demands for aesthetic experience and greater practicality. Customers do grocery shopping while performing other activities, because then they do not have to focus on a colour, texture or size of the product. Taking the above factors into account, it is worth to start implementation works, to smoothly expand the shopping area in the future.
Chatbot supported multichannel customer service
2020 is a year of chatbots, which increasingly often appeared on websites of all large brands. They supported consultants in their daily work and were available outside standard customer service hours. For medium and small companies, chatbots greatly facilitate work of the customer service department answering customers' inquiries. Answering questions and troubleshooting are two different aspects of the same department, and here chatbots are of the assistance. Currently, everybody can program chatbots, but it is worth to ask consultants to assist you in creating scenarios for conversations. They know problems of their customers the best. So what chatbots actually do?
They collect opinions from surveys on a quality of consultant's services, usually displayed after the conservation.
They answer most common inquiries. It is an interactive form of the FAQ section.
They suggest a product that customers inquire after. When a term is entered, e.g., chair, the bot suggests specific products most closer to a given term.
They inform about current offers and promotions. Frequently we can encounter a pop-up window informing us about a current promotional campaign.
If you do not have a chatbot on your website yet, consider its implementation. Solutions offered currently allow implementation of chatbots as a part of a subscribed service or as a widget in the online store system. In 2022 chatbots will be a standard solution supporting the customer service department also outside its working hours. In that year, the scope of their operations also will expand, and we can expect a significant improvement in the purchase process due to the automated assistance available 24/7.
Extended reality facilitating shopping
Online shopping allows us to view a large part of the range within a short time, as well as visits to different shops. This time we save a lot of time and are not as tired as if it would be during the stationary shopping. The only thing that is not possible in online stores is trying the clothes on or checking how selected items will look in our home.
The Customer Think service reports that as many as ⅓ of customers uses extended reality when shopping. The customers are very happy with this option and they are more willing to return to shops offering unique experience. The extended reality with an option to fitting the offered product into own reality is exactly such thing, regardless of whether it concerns clothes, accessories, or any other product. See what services are offered by selected shops using extended reality:
Easy Make Up app at Notino.pl allows you to test make-up cosmetics on your face using a camera in your phone or your computer.

Dulux Visualizer at Dulux.pl will paint our walls online. This way customers can easily make a decision about choosing a specific paint.

Virtual trying of glasses at VisionExpress.pl using selected models of frames allows a customer to check how they will look in them.

Wanna Kicks app uses the extended reality to let you try models of sport shoes from Gucci, Adidas or Asics.
Introduction of a service based simultaneously on virtual and expanded reality will contribute to a higher User Experience factor, because after trying the clothes virtually customers will know what to expect. Options for virtual fitting of the product into the customer's reality will also reduce the number of product returns, and it means good news for e-commerce owners.
In Poland and worldwide, there are many servers available that use the extended reality to offer their customers an option of using their products in the virtual reality. The examples are shown in the enclosed graphic. Taking into account benefits resulting from becoming interested in virtual and expanded reality, in few years a service of this type will probably become a standard in every online store.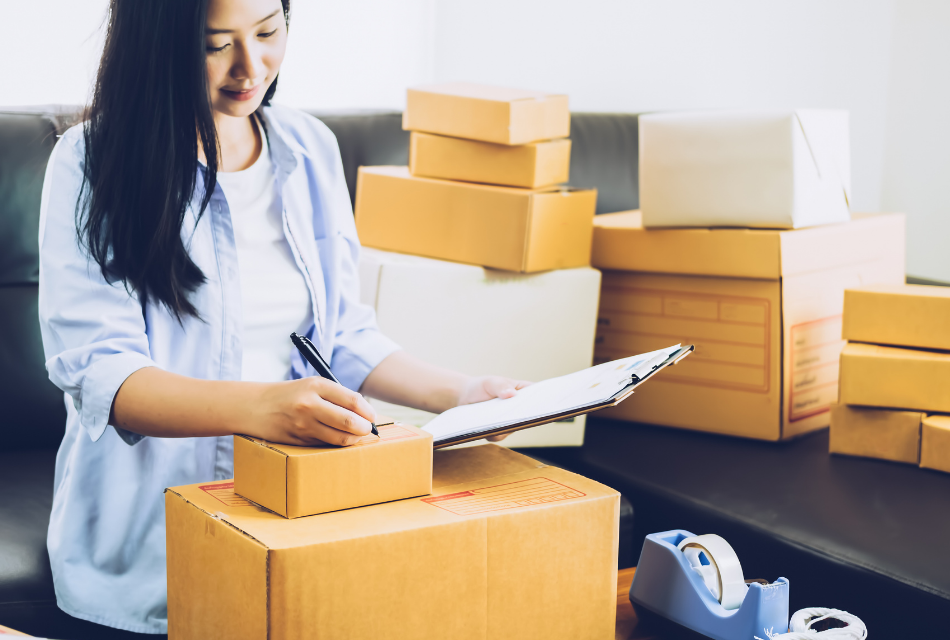 E-commerce classification
Visual commerce
This trend is based on all graphic forms available in sales, and aims at focusing and attracting the customer's attention. Contrary to what one might expect, today selling with images and visual communication are more important than ever before. We are talking here about product photographs, videos, and effects of the user generated content (UGC). The customers' activities result in an interactive content, interactive videos, and the already mentioned extended reality – all created by our customers. What should you focus on when you manage visual commerce?
Create an image-based product browser. This will facilitate search and at the same time will attract customers searching for specific products.
Change the format of product photographs from JPG and PNG to WebP to accelerate website loading. The WebP format can be 50% lighter when compared to the JPG or PNG. The speed of the website loading contributes to the number of customers that will stay on it or leave it.
Invest in creation of 360 degree visualisations or videos for best selling products. Customers that can see how the product looks in motion, from all sides, are willing to make their decision also on a basis of these aspects.
Create a 3D product configurator! Nothing involves the customer more than a possibility to configure, add or remove elements, and ability to decide how their desired product is to look like. Creating a 3D configurator is a part of another trend, that is, of personalisation. Product configuration requires a system enabling the e-commerce owner to decide which elements can be edited by the customer.
Sharing videos or photos created by customers. Here the principle of social proof will work. Customers seeing how other group of customers uses product, will be more willing to make a decision than they would be if they did not see those material. Reward your customers also for their involvement: encourage your customers to create photos or videos, where the most creative customers have a chance to win your product or a discount to your store.
Use external platforms, like Pinterest. Its popularity in Poland is still low, but it is an ideal platform for drawing the attention of potential customers using photographs!
A focus on development of the visual side of e-commerce will pay back in customers involvement and a rise in sales, so check which of these proposals you can implement in your store.
ECO-mmerce
Today, customers do not look for information in the store whether they can change packaging that does not affect our planet for an additional fee. They simply expect the company to adjust to the current trend and have environmentally friendly packaging. Actions benefiting the planet on which we live are also an excellent opportunity for communication with customers, for listening to their expectations and verifying what we can introduce. And in the other direction – for informing customers what we have implemented and why. The first step taken in this area should be thorough considering of an environmentally friendly e-commerce (ECO-mmerce) strategy. Analyse your business and check where you can introduce environmentally friendly solutions.
One of the possibilities is to introduce into your stores products consistent with the use again principle. The online store of the Elementy brand that implemented in its store a tab and an action Relove, is an excellent example here. The company accepts used clothes from the previous seasons (even damaged ones), offering a discount to its customers in return, depending on the condition of the clothes. After they are repaired and refreshed, these clothes are sold again, so the brand customers can enjoy timeless second-hand clothes.
Take a look at recycling and consider whether you can introduce into your business materials that you can easily process again. Today, customers value in particular a parcel packed in an environmentally friendly way, not the one that looks beautiful, the aesthetic aspects are considered secondary. There are many environmentally friendly solutions for packaging and fill materials available in the market. A good example for recycling and for education of customers is the company Nałęczowianka, which all bottles are manufactured with 50% addition of recycled plastic. On its website Nałęczowianka added a tab: And what can I do? giving tips for its customers on waste sorting, water saving solutions, or environmental pollution. These are just two examples of solutions that you can implement in your store. Environmentally friendly e-commerce will be very visible, and in 2022 we will be obliged by our customers to undertake specific pro-environmental activities.
M-commerce
Mobile phones are much more advanced devices than at the time that they were invented. We use them to browse the Internet and social media, shop online, or for calls. Online shopping using our mobile phone is a common thing, and responsive websites or stores are a standard. According to the study conducted by Gemius, 76% of customers shopped using a smartphone. Unfortunately, 80% of them encountered some problems when trying to shop this way. The customers pay attention to:
As customers will increasingly often choose this form of shopping, see if those problems do not also apply to you. Customers will not tell you that anything is wrong – they will simply give up shopping and go somewhere else. A good practice is to test the purchase process, going through it using different scenarios and paying attention to any aspects that may cause problems. As the above infographic shows, many problems concern basic aspects associated with functioning of the online store in a mobile view. If you need any help in solving the problem and improving the functioning of your store, check the hourly hired software developer serviceoffered by us. During a customised session, an experienced software developer will improve functioning of your store and solve any problems related to operation of the online store.
2022 in e-commerce
In this article I presented only some of the trends that will occur in e-commerce in 2022. Doubtlessly, the future will belong to the three crucial aspects:
Technology, including artificial intelligence, extended reality and machine learning, resulting in omnipresent robots, chatbots and voicebots.

Communities created by the society that will require increasingly customised and personalised messages.

The Internet, that is a basis for all activities and allows to provide extraordinary solutions, extending beyond the net.
We hope that this article will be useful for you during development of strategies for 2022. Is there anything that you particularly liked and that you plan to implement in your stores? Share your thoughts with us in your comments!