The global spread of COVID-19 has surprised most businesses and presented them a variety of new challenges. Both suppliers of online solutions as well as their customers must now prioritize their own safety and the safety of their relatives.
However, there are now many new opportunities and possibilities in e-commerce. Online stores and providers have been pressed to find new ways of adapting to the new reality. With the current restrictions regarding the movement of people and the closure of many industry sectors, there has been a considerable increase in the average time spent online.
We can fairly certainly predict that even after the pandemic has been mostly dissolved and restrictions are lifted, some new trends will stay with us longer. Changes in consumers' habits due to the virus will likely continue. So what new trends in 2020 might we identify, and how should our online business follow them?
The rapid growth of online sales
According to research published by Klaviyo, in early March 2020, the global value of online sales started to rise rapidly. Klaviyo highlighted that the biggest growth was within the "new essentials" sector, namely, all of the goods that become essential during a pandemic.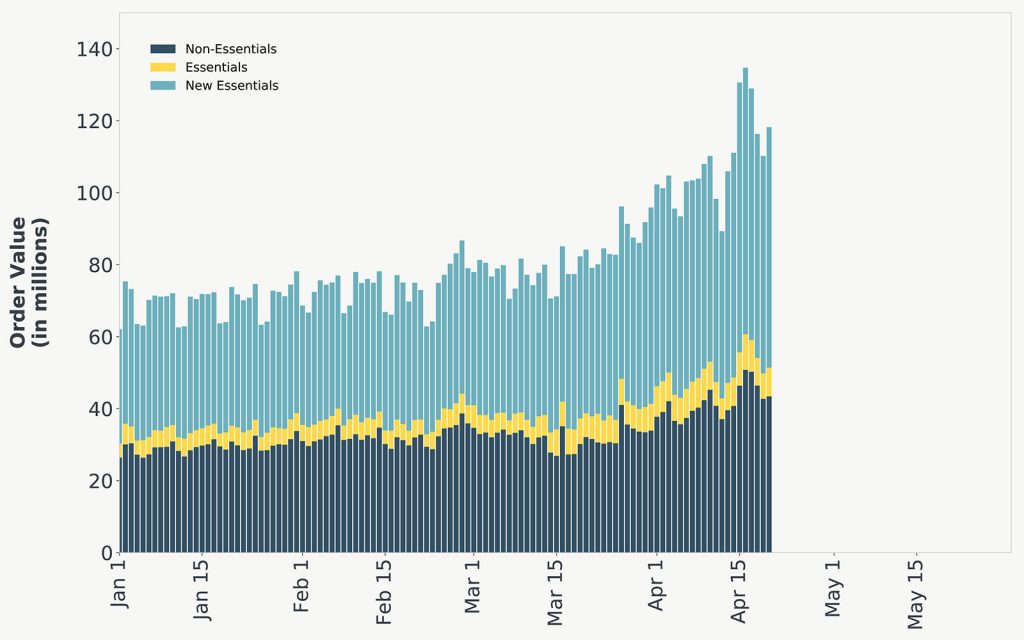 Despite the arrival of the pandemic—and the economic crisis that tagged along—there has not been a global decline in online trade. Rather, it has actually grown rapidly in many sectors.
65% of businesses questioned by Klaviyo predict that consumers will continue to spend the same amount of money, or even more than before pandemic. The same percentage of online store owners admit that they are already adapting their offers in response to the current market challenges. They also expect the increased marketing spending to generate more sales.
According to ChannelAdvisor, research sectors that are subject to the most rapid growth are:
Health and beauty
Computers and connectivity
During the first weeks of the global pandemic, essential goods like toilet paper and disinfectants were the highest in demand. However, as early as March 2020, consumers shifted their attention to the "new essentials" that helped them spend time in the comfort of their homes. New essentials include office equipment, laptops, or home exercise equipment.
How might online stores adapt to new market challenges?
According to Klaviyo, representatives from sectors with the most rapid sales growth plan to focus most of their efforts on adding new marketing strategies and products, all in order to grow their sales even more.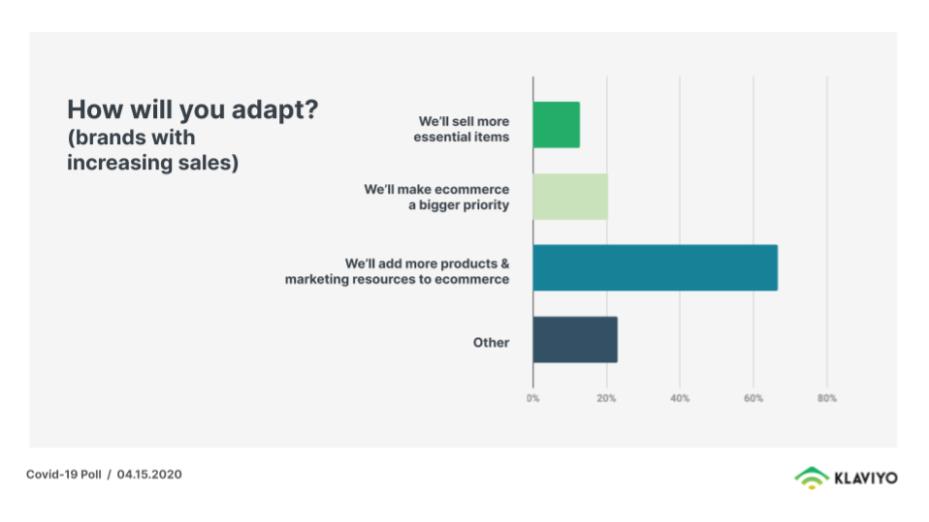 Sectors with decreasing sales will focus on growing their offers and marketing efforts too, but with the addition of two very significant factors:
Adding essential and quick-rotating goods in order to maintain sales and flexibility
Intensifying efforts in e-commerce projects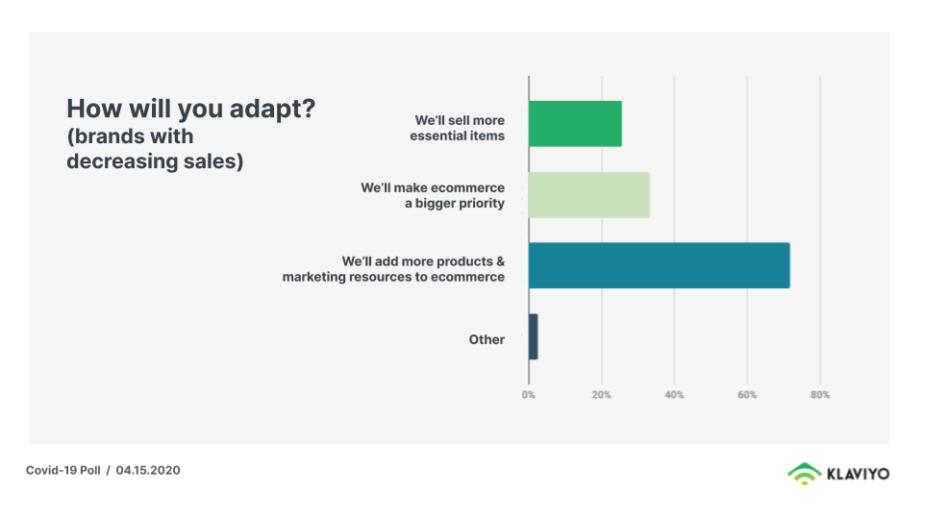 Moving your business online is essential
The current economic crisis has most significantly affected the sectors that are unable to offer their services online. Hairdressers, beauty salons, spa hotels — they have all suffered the most after their income plummeted.
Restaurants, on the other hand, have been able to adapt by growing their delivery services, or by launching online stores with pre-packaged products to cook from home.
Each company from sectors such as these not only has an opportunity, but even an obligation, to maintain relations with their customers. It is extremely important to communicate to the market what we can offer during a pandemic and in its aftermath once it subsides. Even after restrictions are lifted, consumers will have many doubts about their own personal safety and may be reluctant to use your services the same way as before. This is why it will be crucial to introduce new safety procedures and inform consumers that you prioritize health safety. If you stop all communication with the market, your consumers will most likely end up looking for other providers.
Some companies were following a strategy of only generating sales offline, and choosing not to transition online at all. This could be a result of a conscious decision, or simply a lack of knowledge about how to create an online offer.
Many brands opted to offer their goods or services both online and offline. Very often the goal was to introduce their offer in person to consumers in the stores in order to grow demand. Afterwards, the purchase itself was then carried out online.
The longer people are encouraged to stay home, the more that brands without an online strategy will suffer. Even opening new brick-and-mortar stores will not guarantee that all previous customers will return.
It might be a huge challenge now to make up for the lost time in creating an online presence for your business if you have not considered it before. It may be even more difficult to catch up with the competition that already transitioned to online sales long ago. On the other hand, it might just have become a little easier.
The shift in consumer habits will be long-lasting
During the weeks of quarantining, consumers have had more free time in which many were pressed to discover new ways of fulfilling their needs.
For example, many people, forced to prepare their own meals at home, have discovered not only that cooking is less daunting than they originally thought, but that they even enjoy it. Because of this realization, they might be reluctant to frequent visits to restaurants in the future. Innovative restaurants that predicted such trends have already reinvented their strategy. They offer standard food delivery services as well as ready-made ingredient packages that allow their customers to make their own high-quality meals.
Online buyers will also be much more conscious of their purchases. They will likely stop immediately looking for solely the price tag; they have learned that there are more important factors. They may now consider the credibility of the seller. For example, they could investigate how likely it is that the seller fulfills the order properly, and what the timeframe will be.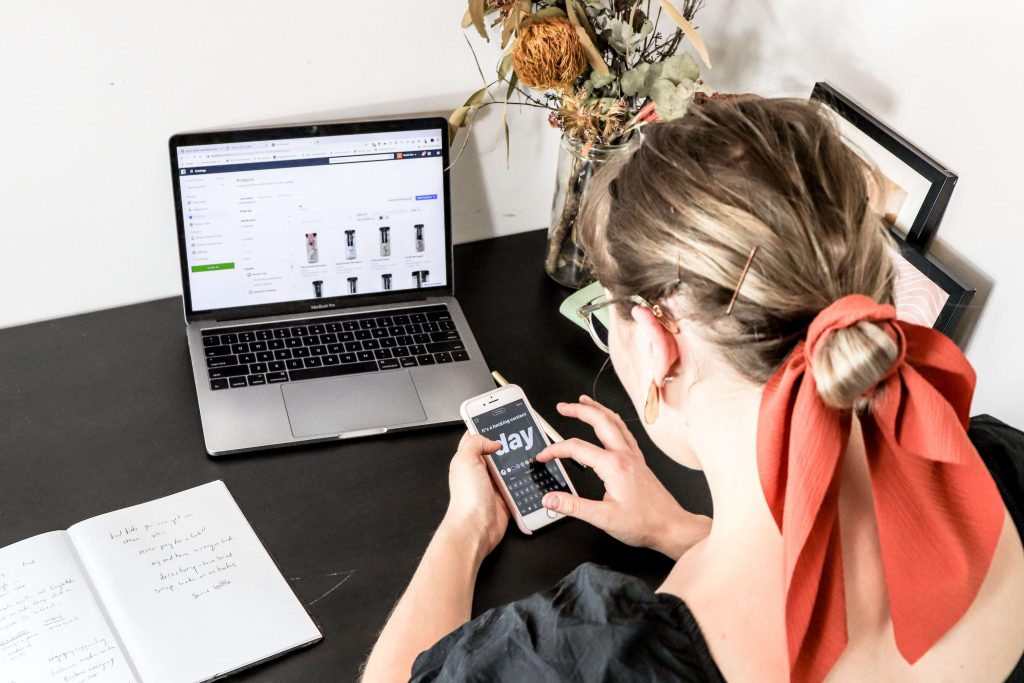 It is an optimal time to start your own service platform or online store
The largest and most well-known sales platforms like Amazon are now greatly struggling to keep up with the massive demand. Other businesses, like online pharmacies, are having trouble maintaining product availability, and their delivery times are longer than ever. Ordering groceries online will also put your patience to the test, as the first possible delivery time might be two weeks from now. Consumers have started to discover that they might be served better (and faster) by small, local brands.
In these days of uncertainty when many people fear even leaving their homes, online sales of simple, everyday goods is growing rapidly. The one who is able to organize efficient logistics may come out on top today, but tomorrow, the origin and quality of the product will also play a contributing factor. Conscious customers will be even more willing to pay for better service, and they will be experts at online shopping.
We can all see a huge growth in the number of small online startups, and we are confident that this boom will generally benefit the market. After all, these new online businesses prevent few global players from monopolizing the whole Internet.
Advertising is cheaper than ever
When the pandemic hit, tailed by the economic crisis, rates for online advertising from services like Google Ads decreased. By maintaining the same budget as before, you are now able to reach a much wider audience, hereby generating more sales.
It is an excellent idea to ask your clients how your product or service satisfies their current needs, and if there is any aspect of your sales or communication with the public that could use improvement.
Product personalization and positive online experiences are more important than ever
As we have already mentioned, after having satisfied their most basic needs, consumers reach very quickly for other, less essential goods and services.
The current situation is going to improve over time. Then, online sales will grow in all sectors. As of right now, you can win over the market just by ensuring all essential goods that people are looking for are available. However, that will soon not be enough.
It will be extremely important to make sure your customers leave your online store with a positive experience. One method to help you with that is product personalization.
A customer that visits your physical store has the option of speaking with a salesperson who can suggest a solution that is perfectly tailored to their particular needs. An online customer expects exactly the same.
If, based on previous actions taken by the site visitor, we can show them a personalized offer, we can remarkably improve our chances of a successful sale. The same effective result can be achieved if we allow our customers to build a product or service exactly the way they want it to be. This can be done using a configurator, which will lead the customer through the whole customization process.
By doing this, we can ensure two equally important goals are met:
the customer is receiving exactly what he or she wants
the customer feels he or she is receiving something unique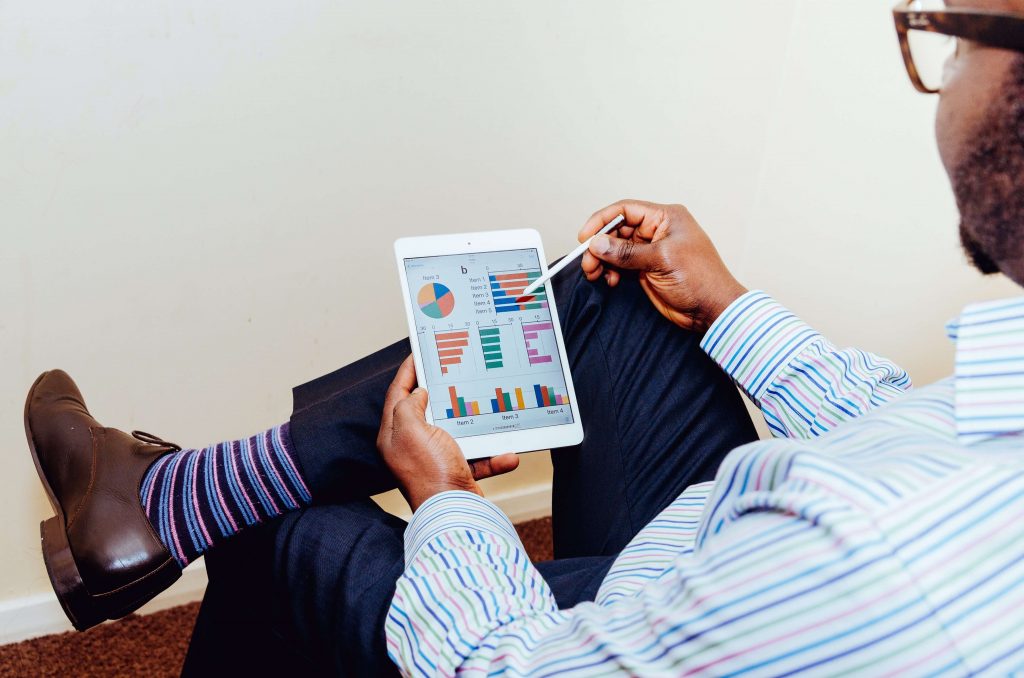 Summary
Current times are difficult for everyone. Regardless, it is well worth it to focus on strategic planning, as well as what online sales will be like after the pandemic has recessed and the first symptoms of the economic crisis have been overcome.
You should be prepared not only for new opportunities and possibilities, but also new habits from your customers.
Dear reader, we hope you take advantage of these innovative endeavors and are equipped and ready with your online business for new challenges. We would be delighted to help you with this process. To support your online presence, we can provide you with a variety of tools, such as dynamic online stores with product or service configurators. We look forward to discussing all of these possible options with you!