We started publishing interviews with our programmers some time ago. This profession is gaining popularity year by year in Poland and more and more people dream about working in the IT industry. There are many good reasons for that, like high wages, continuous development, implementation of interesting projects and… very popular in recent times the opportunity to work from every corner of the world.
What does the work in the IT industry look like? What skills do you need to become a programmer? Is this a profession for everyone? Do you need to have a degree in this field?
Kuba, who has been working at MSERWIS for over 5 years, answered to these and many other interesting questions. He isn't only a programmer – he also plays an important role in our office. He is our company DJ too! That is why it is very easy to find out when he is not at work – there is a deafening silence.
Dear readers, get to know Kuba!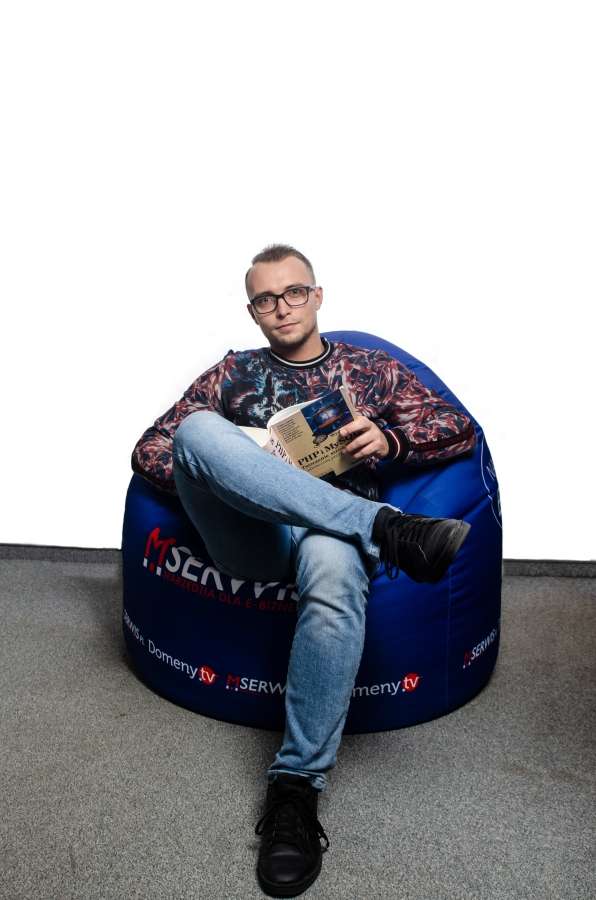 What exactly do you do at MSERWIS.pl?
I work at MSERWIS as a back-end developer. I am responsible for providing solutions on the server side, thanks to which the application receives the necessary data to operate through, among others creating APIs, communication with databases or algorithmics.
Well, in short, I mainly deal with what is not visible with the naked eye. I am responsible for developing and looking after our clients' applications and implementing new technologies.
How did it happen that you became a programmer? Did you always plan it, or was it a rather spontaneous decision?
It's a long story. I've been dealing with computers for a long time, but I treated it as a hobby. Then I started coding and programming, but I didn't associate this with my professional career.
Honestly, all this changed when I couldn't find an occupation for adult life. I decided to try my hand at the IT industry. And at first, I just wanted to check how it looks like. Ultimately, I've established myself in the IT industry and it has been five years since I have been working as a professional programmer.
What do you need to do to become a programmer? What are the required skills for this profession? Do you need to have education in this field?
I think that you have to feel this profession. Not everyone is meant for being a programmer – you just have to like it. Of course, there are some skills you should have, like scientific mind, the analytical thinking and the ability to learn from others.
In my opinion, IT education is not necessary. Graduating from college doesn't make you a good programmer.
The programmer must devote his own time to learn programming languages, mainly by trial and error, trying to solve more and more complex problems. In turn, IT studies can help the programmer in further career, in corporations, in managerial positions, but I personally think they are not necessary to find a good job.
What do you like the most in your job?
I love to see the results of my work. Every success, even the smallest, brings me a lot of joy. I also like the dynamics and development of the IT industry.
What are the biggest advantages and disadvantages of being a programmer?
It's difficult to find disadvantages in this profession. Most of programmers have chosen this occupation from passion.
The only drawbacks that come to my mind at the moment are the impact of the computer and monitor on health. My eyes, after 5 years of professional work, are in worse condition. I need to wear corrective glasses. Well, apart from the eyes, the sedentary work is also not healthy.
I have mentioned the benefits of being a programmer in previous questions. However, I can add that I am proud of being a creator or co-creator of interesting projects. Setting trends for web and mobile applications is also very exciting. And I don't have to mention good earnings in the IT industry…

What kind of qualities a professional developer should have?
I believe that a good programmer should have a scientific mind and excellent understanding of algorithms. In addition, the programmer works mainly in a team, so the ability to work with other people is also very important. And the desire to develop skills is important for such a dynamically growing IT industry.
What was your most interesting project?
The most interesting project I took part was unfortunately abandoned. However, realizing the various stages of that project gave me a lot satisfaction.
All this because of the subject of the project, which was very close to my interests. The application was a combination of sport, fitness, diet and healthy nutrition. The project fell through the so-called "Business" that could not meet the expectations of end customers.
What did you want to be when you grew up?
As a child, like most boys, I wanted to become an athlete. During the teenage years I trained a lot of martial arts. However, the older I was, the less time I had for sport activities.
What is your biggest dream?
My biggest dream is to start a family with whom I will be able to share my passions, mainly traveling. I want to visit as much as possible of the world.
And what is your favourite place in the city you live?
My favorite place in Wroclaw is the area around the Centennial Hall. The Centennial Hall itself is a great venue for sports and events, in which there are many interesting attractions, including concerts, stand-ups and sports events. In the close vicinity of the Centennial Hall, Pergola, the ZOO and numerous green parks are definitely interesting places.
What do you do in your free time? Do you have any hobby?
In my free time I like to play all kinds of sport activities, like for example: go-karts, squash, climbing walls or rope parks. I also very enjoy a good draft beers while watching the Netflix series.
3 things that you would take with you on a desert island.
I will answer this question as rationally as possible. On a desert island I would take a fishing net, a tent with a sleeping bag and a sharp, decent knife. These are things that would make it easier to survive on a desert island.

Soon we will publish interviews with other members of our team and we will show you their perspective on the profession of a programmer and work in the IT industry.
Check also the interview with Denis – our front-end developer!
And how do you perceive the profession of a programmer? We will be happy to hear your thoughts, let us know in the comments!